From wjla.com: It's been two years since First Lady Michelle Obama began her "Let's Move!" campaign. To celebrate, students at Alice Deal Middle School in Washington, D.C. danced with some guys who can really move.
"They stay sitting all day. It's just a good opportunity for them to get up and get out and run," Jen Myers, with Fit Kids, said.
Joining tho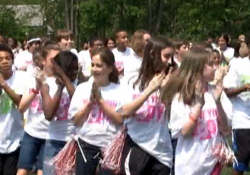 usands of other students nationwide in a flash mob workout, students danced side by side with D.C. pro athletes.
NFL Linebacker and former Washington Redskin Rocky McIntosh said, "I love to dance. Every time I make a play, I'm out there dancing."
The goal of Obama's program is to show children what they can accomplish with exercise and a healthy lifestyle.
Myers added, "It gives the kids a great opportunity to see these players having fun doing what they're doing."
And at Alice Deal, they've made the teachings of the "Let's Move!" campaign a part of the curriculum.
"They know P.E. Is going to be sweating, they know they're getting their heart rate up," Neal Downing, the athletic director at Alice Deal, said.
After all the dancing was done, another mob formed. This time, for autographs.
See this story along with more photos from the event on WAT -AHH! NEWS!