Founded in 1996
What is Fit Kids™? How will your child benefit from our programs? Who are our instructors and what are their qualifications? Why should I enroll my child in Fit Kids™? How will my students benefit from Fit Kids™?
I am often asked about my organization. Having been an educator for over 20 years I am very excited to be able to offer to parents and schools a quality program which will help children be happier and healthier.
As a parent, I have found that it is often a struggle to get children to adopt a lifestyle which is healthy for them. I created Fit Kids™ for the children of busy parents like you and me who want the best for their children. But what does the BEST mean? To me, it signifies a life which is balanced emotionally, intellectually, and physically. Fit Kids™ is designed to address all of those needs. We achieve this through a superior curriculum and excellent instruction.
Recent surveys indicate that not only adults, but children as well are increasingly suffering from obesity. When children become obese they develop poor self-images, have fewer friends, do not achieve as well academically and are at risk for serious adult health problems. This trend is not irreversible. According to a report by the research group Trust for America's Health, one third of kids nationwide are overweight now, other stats show that the percentage of children who are obese has more than tripled since the 1970's. More than 90 percent of elementary schools don't provide daily physical education according to the Robert Wood Johnson Foundation. The Fit Kids™ program has been developed for toddlers thru 8th graders whose fitness habits are in their formative stages and whose fitness needs may not be being met at school or play.
Fit Kids™ classes are noncompetitive physical education programs which stresses thinking as well as doing. Fit Kids™ provides a workout for the mind as well as the body. Our instructors are trained professionals who are used to and enjoy working with children. Fit Kids™ instructors also complete intensive training sessions and are certified in the Fit Kids™ program. We treat each child as an individual and work with each child's individual needs and limitations.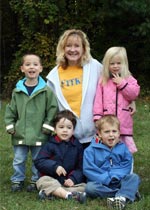 Fit Kids™ is the elite physical education program. We originated in health clubs before the kids fitness craze started and upon the request of private schools, preschools, after-school enrichment programs, recreation and community centers Fit Kids™ has expanded their programs.
Fit Kids™ looks forward to working with your children and spreading the love of fitness.
~Cindy Anderson
Founder