Baseball/T-Ball (ages 3 and up)
This clinic introduces kids to the basics of T-Ball. Hitting, stance, fielding, throwing, and catching are only a few of the basics covered. Wear tennis shoes and bring your glove.
Basketball (ages 5 and up)
Learn the game or improve your skills. Emphasis is placed on basic fundamentals including shooting, passing, rebounding, and defensive skills. Players will also build on teamwork and sportsmanship. All equipment provided.
Gymnastics/Tumbling (ages 3 and up)
This concentrated instruction on floor exercises, mat work, and stretches provides an exciting challenge for both boys and girls. Tumbling helps children develop self-confidence, body awareness, coordination, muscle strength, and discipline. Various rolls, cartwheels, tripods, and headstands will be covered.
Fit Kids™ (ages 2 and up)
This program includes lots of equipment and is structured age appropriately. Make your kids "Fit Kids™" with our non-competitive fitness program. The Fit Kids™ program focuses on learning, success, and fun. They run, jump, throw, and catch balls, do abdominal curls, jumping jacks, push ups, learn about fitness and health… But most of all they have fun learning and exercising.
Fit Kids™ is an enrichment program designed and developed for each individual child to encourage health and fitness as a way of life. The program consists of a weekly class taught by our extremely qualified instructors. Along with having extensive experience with children, our instructors are also certified child fitness professionals. We base our program on the strength and experience of our teachers. Weekly health handouts and certificates for pre-schoolers! Cool and exciting equipment used during each class!
Floor Hockey (ages 5 and up)
Children will have a blast participating in one of the most energetic sports, floor hockey. This class is aimed at developing physical skills and hand/eye coordination. We'll work on the fundamentals of hockey, teamwork and sportsmanship. Get those future NHL'ers off to a good start. Floor Hockey is a super place for young players with tons of energy. Hockey sticks are provided and plastic pucks are used. Floor Hockey develops hand-eye coordination, agility, speed, and strength.
Lacrosse (ages 4 and up)
We will focus mainly on individual skills such as stick work, ground balls, shooting, and one on one defense. The drills and games will allow you to learn and have fun. We want our players to come away with a better understanding of the fundamentals.
Sports Blast (ages 2 and up)
A great overview of various sports and fundamental skills will be learned. Teamwork and good sportsmanship are stressed. Specific sport activities will vary by each class. This session is designed to ignite a passion for sports. Children will improve their kicking, running, jumping, and throwing skills. Introduction in various sports will include T-Ball, Hockey, Basketball, Lacrosse, Soccer, Tug of War, Frisbees, Relay Races, Individual instruction, organized drills and fun Games will be included.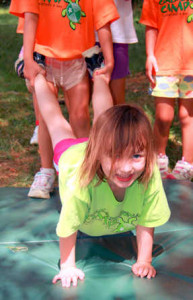 Soccer (ages 2-5)
Fit Kids™ soccer is designed for preschool children. Learning the basic skills of soccer develops motor skills, cognitive abilities and social interactions and relationships. This camp provides fun, fast-paced series of games and activities. This clinic covers trapping, dribbling and shooting concepts.
Soccer (ages 5 and up)
Soccer is an excellent all around fitness sport that is also very inclusive. Kids of any body size and type can learn to play well. Few sports offer the same combination of rigorous exercise, fast-paced excitement, social interaction and cooperative teamwork. Muscular strength, endurance, joint flexibility, cardiovascular fitness, coordination, agility, balance, weight control, body image and self esteem are all boosted. This clinic covers trapping, dribbling, passing, shooting, positional play and scrimmaging.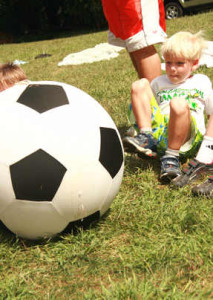 Yoga (ages 3 and up)
Yoga allows kids to take a break from the stresses of every day life and teaches them lifelong tools of stress management and relaxation. It is never too early to introduce your children to the joys and rewards of a yoga practice. Fit Kids™ Yoga blends yoga poses, breathing and relaxing with fun games. Kids who do yoga build strength and flexibility, improve coordination and focus, and learn cooperation and friendship. These classes are adventures that light up kids' imaginations.
Fit Kids™ for home schoolers (ages 7 and up)
Fit Kids™ provides home schoolers with an enhanced fitness education and assessment program to help children understand, improve and maintain their physical well-being. This class includes health education handouts that pertain to a healthy lifestyle.
School Age Enrichment Programs
Fit Kids™ offers all of our enrichment programs to SACC. Contact your local school to request more information or email us for requests.
Private Parties
Another year has gone by and you are out of party ideas? You have had the pirate party, the power rangers, and Thomas the Train. This year give Fit Kids™ a call to plan an exciting party package for your child that will be full of fun games and activities. We can plan a variety of different theme parties to suit your child's interests: Fit Kids™, Sport Themes, Multisports, and Soccer. Our qualified instructor will come to your location with Fit Kids™ equipment and music. Call us today for an exciting, fun filled birthday party experience at (703) 803-6194.