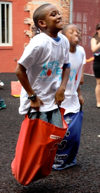 Let's Move! came to Martha's Table with help from Fit Kids DC. The First Lady started the initiative in 2010 with the objective to end childhood obesity and improve the health of children in the United States.
The kids participated in many various activities around the playground including soccer, sports training drills, sac races, three legged races, frisbee tossing, and much more! The playground was full of smiles as they excitedly learned Zumba and danced with their teachers to music played by the Safe in the Streets DJ and MC.
President of Martha's Table, Lindsey Bus said "Our Let's Move! event was great because of the attention it brought to the important issue of childhood obesity and the fun and easy solutions it highlighted.
Guest speakers from The President's Council on Fitness Sports & Nutrition and The office of Disease Prevention and Health Promotion, and Aladdin from WPGC 95.5, talked to the kids as a large group about healthy habits.
Read entire article here.