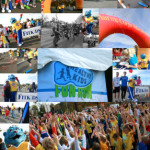 For the second year, Fit Kids® provided FREE Kids Fun Zone Stations before/during and after the Marine Corps Marathon Healthy Kids Fun Run.
Parents, families and runners were invited to visit Camp Miles, a free all-day activity area featuring interactive challenges and games focusing on health and fitness.
For more information, visit the Marine Corps Marathon website.