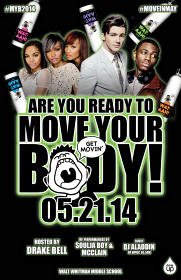 Soulja Boy and FitKids® teamed up this past Memorial Day weekend with the Wataah! Foundation to fight childhood obesity In America. Over 250,000 kids from more than 600 schools around the country joined together in support of the 4th annual "Move Your Body" initiative.

The Wataah! Foundation and FitKids® kicked off Memorial Day weekend with the 4th annual, "Move Your Body", a nationwide kids exercise event in support of first lady Michelle Obama's Let's Move! Initiative May 21st with a major Washington, D.C. school event hosted by standout Nickelodeon star Drake Bell. The event featured performances by Disney sensations McClain, pop star Soulja Boy, we are toonz creators of the dance craze "The Nae Nae", and special tribute to our armed forces.
View complete article on TheSource.