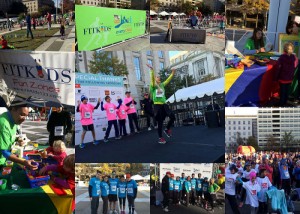 Third Annual Race Rallies 6,000 Registrants to Support Children's National Health System, the Washington Region's Only Children's Hospital
WASHINGTON, DC–(Marketwired – November 04, 2015) – On Saturday October 31, Children's National Health System hosted the third annual Race for Every Child at Freedom Plaza in downtown Washington, D.C. The 5k run/walk and Kids' Dash drew more than 6,000 registrants and raised an unprecedented $1,282,659. Proceeds from the Race will help fund specialized medical care, the development of innovative treatments for childhood diseases, and important wellness and preventive services to keep children healthy from the Washington region and around the world.
This year's Race was co-chaired by Casey and Nick Seidenberg of Washington, D.C. whose daughter Pippa continues to receive treatment at Children's National. "The Race for Every Child may be over, but we know the finish line is just the beginning," said Race Co-Chair Casey Seidenberg. "The collective impact that all participants had will continue to make an enormous difference for children's health now and in the future, ensuring that every child treated at Children's National receives the expert care they need."
Read complete article here.